Information | PFP ® appearing in China International Import Expo 2022 in global trade and international logistics peak BBS, named "logistics and supply chain solutions (China) 2022 TOP 50" list
On November 8, Winston Zhu, CEO of Shanghai Achieve-Tech Packaging Technology Co., LTD., was invited to attend the "Global Trade and International Logistics Summit 2022", an official supporting activity of the Fifth CIIE, and attended the "International Logistics and Supply Chain Advisory Committee 2022 Annual Meeting", which was held at the same time as the young entrepreneur. During the Summit, Shanghai Achieve-Tech Packaging Technology case -- "PFP®AT Plastic Free Bag: Cradle to Cradle, one-stop e-commerce Packaging Solution" won the "2022 Logistics and Supply Chain (China) Solution Top 50" list.
Representative of Shanghai Achieve-Tech Packaging Technology accepted the award (third from right)
Supported by the Ministry of Transport of the People's Republic of China, sponsored by the China Communications and Transport Association and co-hosted by Shanghai Maritime University, the 2022 Global Trade and International Logistics Forum (BRF) was held at the National Convention and Exhibition Center (Shanghai) on 8 November 2022. With the theme of "Building a Safe, Stable and Green Supply Chain System", this forum further enhance its influence on the basis of the successful holding of previous sessions, and contribute to the industry to seize the opportunity of the global supply chain changes, gather the strength of China's logistics and supply chain, and promote the high-quality development of China's logistics industry in the 14th Five-Year Plan period. At the forum, Yang Xiao, Secretary-General of the Organizing Committee of the Global Trade and International Logistics Forum and Editor-in-Chief of Logistics Times, officially announced the 2022 TOP50 Logistics and Supply Chain (China) Solutions and held the awarding ceremony.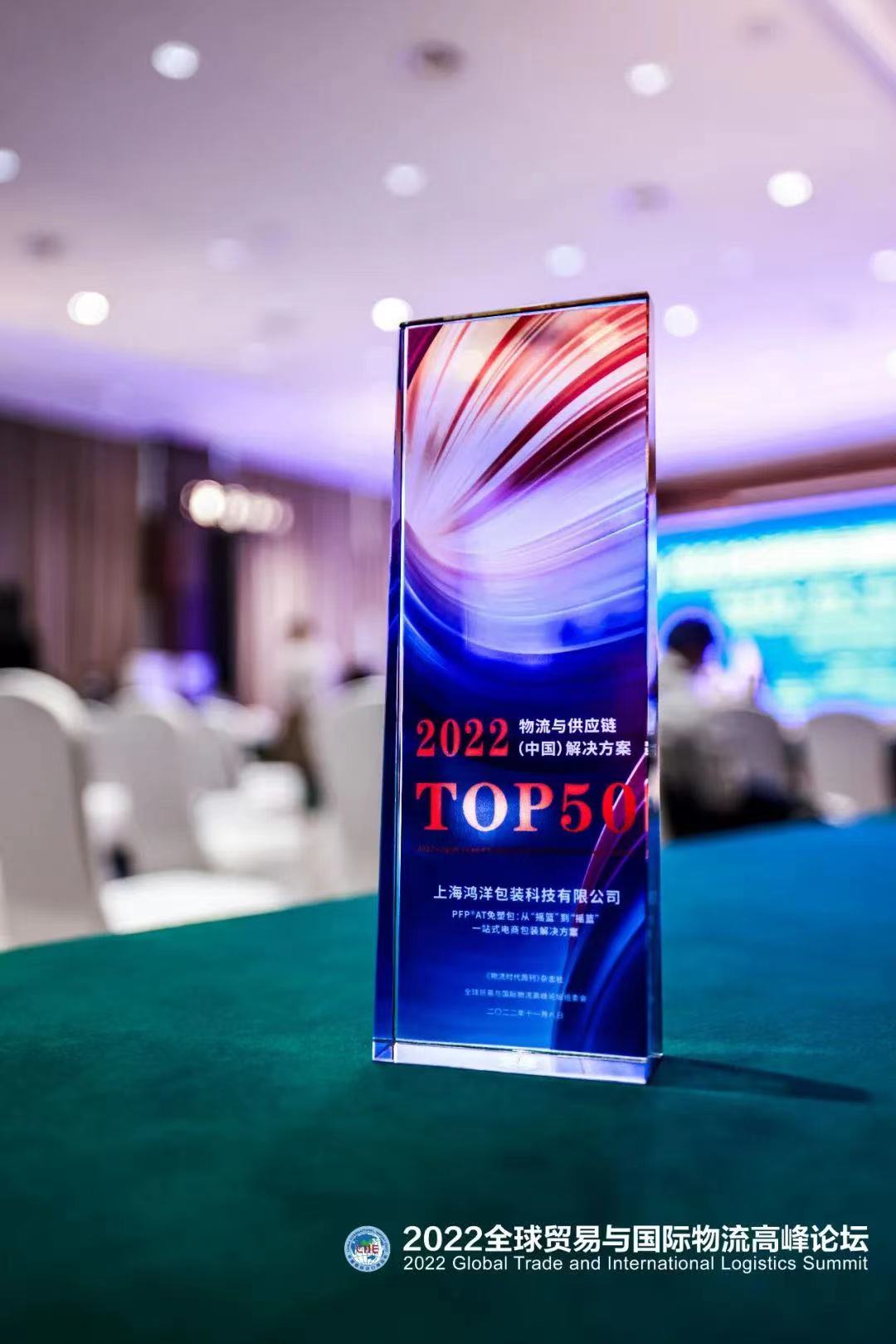 PFP® has been named the TOP Logistics and Supply Chain (China) Solutions for 2022
On November 7, the International Advisory Committee on Logistics and Supply Chain (ACABQ) 2022 Annual Meeting was successfully held in Shanghai. Advisory Committee Members: Zhao Guoqing, Vice President of China Transport Association; Xu Yahua, former Chief Engineer of Ministry of Transport; Sun Jiakang, former Vice President of COSCO Shipping Group; Kang Fengwei, Secretary of Party Committee and Chairman of Railway Equipment Company of National Energy Group; Huang Youfang, former President of Shanghai Maritime University and President of Supply Chain Research Institute of China Shanghai Free Trade Zone; Mr. Ni Wei, Executive Director of Global Trade and International Logistics Summit Forum and founder of Shanghai Media, Mr. Li Fengli, Deputy Secretary of the Party Committee, Director and General manager of Shandong Port Group, and Mr. Qidan, general manager of Yuxinou (Chongqing) Logistics Co., Ltd. attended the forum. They also talked with Mr. Wang Ming, director of the Institute of Comprehensive Transportation of National Development and Reform Commission, about "China's green logistics supply chain Development in 2023".


Shanghai Achieve-Tech Packaging Technology Co., Ltd. forge ahead, in the environmental protection e-commerce express packaging track innovation. Its CEO Winston Zhu was honored to be invited to participate in the annual conference, and received the award as the "initiator of International Logistics and Supply Chain Young Entrepreneurs Forum" from the Advisory Committee together with Cainiao International, CRRC and other enterprises,.

Winston Zhu receives the Award from the Consultative Committee (2nd from left)
As Winston addressed, the report of the 20th National Congress of CPC also proposed to make a systematic arrangement for "double carbon" work with the theme of "actively and steadily promoting carbon peak carbon neutralization".the whole society will actively participate in the wave of "double carbon". Logistics supply chain will set an example and actively promote carbon neutrality. Packaging is a very important and non negligible part in the logistics supply chain. The use of green packaging is of indelible significance for building a green logistics supply chain. Since its establishment, Shanghai Achieve-Tech Packaging Technology Co., Ltd. has been firmly following the national sustainable development strategy and the "double carbon" policy, adhering to the principle of 3R (Reduce, Reuse Recycle), constantly introducing new plastic reduction, non plastic and recyclable e-commerce packaging, and constantly improving its packaging solutions by using big data and the latest technology, Strive to achieve green carbon reduction in every detail of the entire packaging supply chain, and wholeheartedly provide customers with GPS (green, personalized, smart) services.
PFP® one-stop environmental e-commerce solution
"It is the mission of PFP® to stay true to our original intention, adhere to packaging the future for consumers, and let our packaging help everyone achieve a beautiful life of low carbon, environmental protection, individuality and the Internet of everything. Shanghai Achieve-Tech will work with all the government leaders and responsible entrepreneurs present at the annual conference to promote the development of green supply chain and make continuous efforts to achieve "clean water and green mountains".
Part of the brands Shanghai Achieve-Tech has served